"The more you honor Me the more I will bless you."
The Infant Jesus of Prague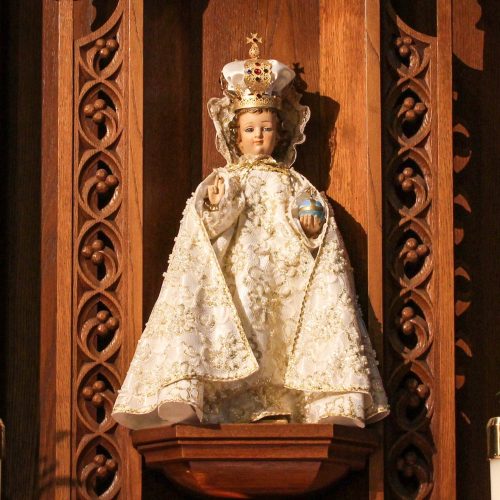 The Son of God did not come among us as a mighty king or conqueror. Instead, He chose to be born as a small, fragile, vulnerable, trusting infant. He took on all the limitations of our humanity so that we might recognize ourselves in Him.
Earlier generations of Catholics have honored and prayed to the Miraculous Infant Jesus of Prague. Do you remember a grandparent, parent, clergy member or a friend who had an Infant of Prague statue? Was He a part of your childhood, in your home, in the home of a relative or in your parish church?
Even today some churches and homes honor the Infant Jesus, enshrined and adorned with a crown and a colorful array of decorative clothing, still being lovingly cared for by the faithful. But if we do not educate others and purposefully strive to keep this tradition alive, I fear devotion to the Miraculous Infant of Jesus of Prague might become an artifact of the past.
The Dominican Friars at the Rosary Shrine of Saint Jude would like to encourage you and others to continue this beautiful spiritual practice of our Catholic faith. With your most generous offering, we can maintain the Rosary Shrine of Saint Jude as a center for devotion and a place of inspiration for our Catholic family in these troubling times. Allow us to pray with you and for you. As we confide our fears and problems to our heavenly intercessors, we are reminded of how great Our Lord's love is for all of us.
With centuries of tradition, and a history of special graces and blessings that the Miraculous Infant Jesus of Prague has bestowed upon all who honor Him, this meaningful devotion is a great gift to all of us.
Thank you for your friendship, generosity, and loyal support.
✠
Sincerely in the Miraculous Infant Jesus,

Father John Paul Kern, O.P.
Director
Rosary Shrine of Saint Jude