---
Saint Jude And Our Lady: Watching Over Our Nation's Motorists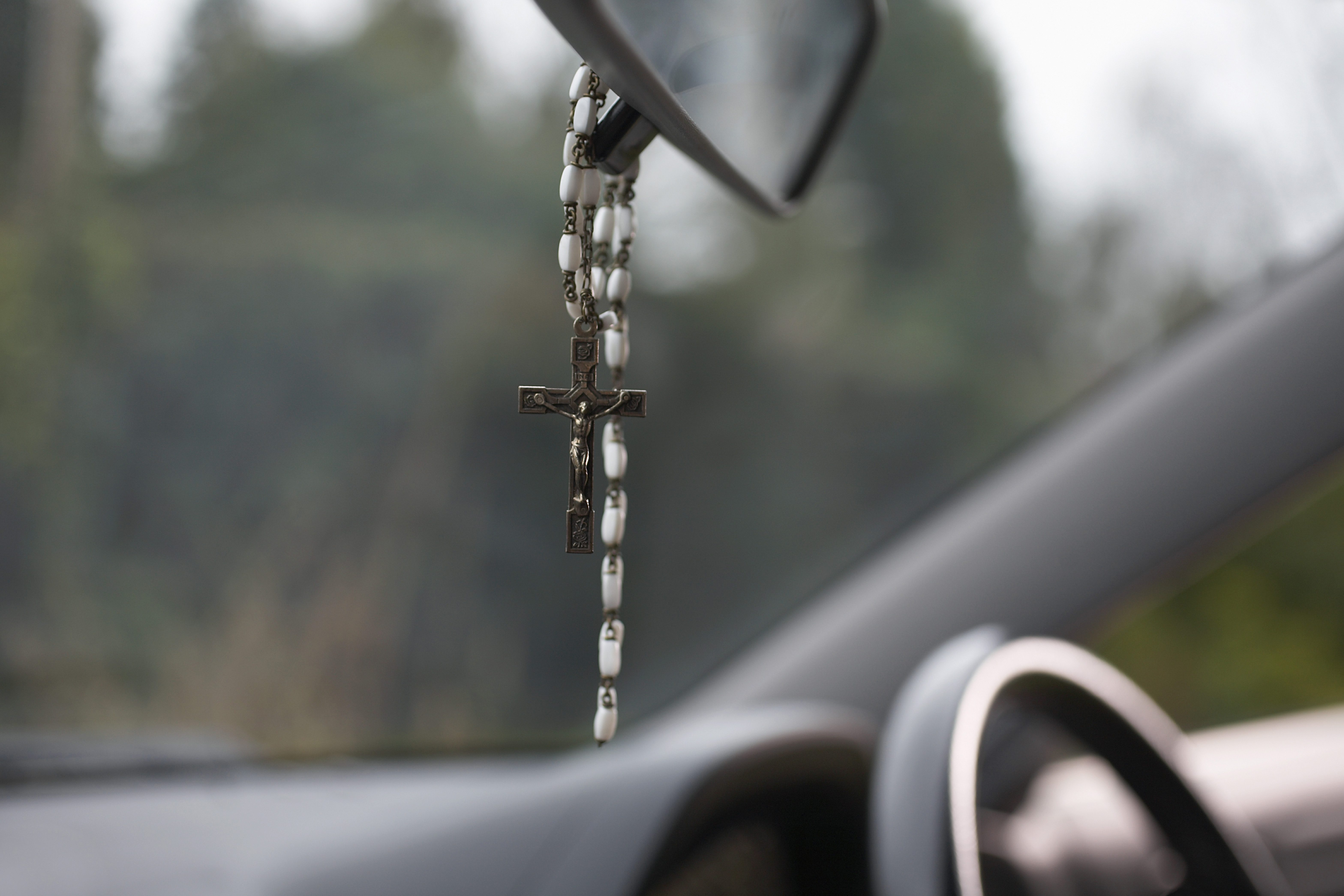 In most parts of the country, we rely on cars to get to work, transport our families, and put food on the table. Driving is an activity we barely think about… until something goes wrong. A catastrophic accident can happen in seconds, and even the loss of a vehicle or a license is major setback for a working family. Thank God for the intercession of Saint Jude and Our Lady, who watch over us where we most need protection—including on the road. Here are three stories of how God helped drivers who are patrons of the Rosary Shrine of Saint Jude.
My Son Survived a Wreck Untouched
I have just finished reading my first issue of the Saint Jude Messenger. I was also recently sent a Saint Jude relic from the Rosary Shrine of Saint Jude. I have held onto this relic every morning as I pray my rosary and have begun to ask Saint Jude for his powerful intercession.
In particular, on the weekend of May 6th and 7th, my husband Don and son Matt participated in the driver education portion of an event at a racetrack. They have been involved in this sport for many years and both of them are excellent drivers. I had been praying for them all weekend and in particular with great intensity the morning of the 7th.
On the afternoon of the 7th, my son was involved in accident where he went head first into a cement wall. The car was totaled, but by God's mercy—and, I believe, the intercession of Saint Jude and the Blessed Mother—my son walked away from the accident untouched! The miracle continued with God totally taking care of the financial aspect of the car being totaled. It was truly a miracle and I give glory to God through the mighty intercession of St Jude and our Holy Blessed Mother.
— Sandy
Collision Avoided
I am a divorced non-Catholic. I wear the Miraculous Medal and, more recently, I have started wearing an Immaculate Heart of Mary medal that was issued in recognition of Our Lady's apparitions at Fatima. My husband also carries a Miraculous Medal on his key ring, and we keep two Jesus clips on the sun visor of our truck.
Recently, I was driving with my husband and turned off a busy road towards a commercial lot, which required me to cross a double lane of heavy traffic. I thought I was in the clear, when almost out of nowhere I saw a red truck barreling toward us! A white truck was quickly approaching well. My husband shouted at me and I screamed helplessly as there was no way to avoid getting broadsided.
I braced for the worst… but there was no collision. It was almost as if the trucks had vaporized. I had no idea how a crash was avoided.
Then I remembered the holy medals I was wearing and the visor clips with the image of Our Lord on them and I knew at that moment how we were spared. Our Lord and Lady were with us and protected us. I praise our Lord and Lady and thank them for being with me and saving our lives.
— Sandra
Trusting in Jesus and Saint Jude
Last month, my wife's car broke down. After taking it to a mechanic, we got the bad news that it was going to cost over $5,000 to fix. I have not been working for over a year because of a back injury from an automobile accident, so we did not have the means to fix our vehicle.
We still had my vehicle to use for our family of five, but it was 14 years old and needed work. Soon it too broke down and we were without transportation.
While this vehicle was in the shop, my wife and I decided we would be able to afford payments on a newer, pre-owned vehicle with a warranty. The big catch was that we did not have strong credit as we made late payments on several bills due to my being injured and out of work. It absolutely broke my heart that I caused this, while my wife has been nothing but supportive, kind, and loving.
When we went to the used car lot, I took along a Saint Jude relic that my mother had given me. I held it in my hand and prayed the whole time we were at the lot. We found a good car but, because it was late in the day, the dealership did not hear anything back from the bank. We left with no new vehicle.
Once home, I told my wife, "Maybe they didn't want to hurt our feelings. Maybe we got denied." The next day my wife applied for a loan at our local bank and was in fact denied. At this point, I started to cry. I was angry at myself and ashamed that I could not financially help my family.
I took the Saint Jude relic out of my pocket and sat it on my dresser and I thought to myself, 'I am going to tell my mother not to give me these religious trinkets anymore.' I was losing my faith. It seemed that life was nothing but bad luck for me.
I sat on my bed and started to cry, feeling an incredible sadness in my heart. Then I spontaneously prayed out loud to Jesus. I said to him, "I give up, I relinquish any control I have over myself and give it to you!" I felt as though I was speaking directly to Our Lord Jesus Christ. I also told him I wanted a purpose in life and that I was afraid of going down a dark path. I spoke to him as if he was standing in front of me.
I then turned to my Saint Jude relic, I prayed to Saint Jude, told him of my prayer to Our Lord, and said, "I leave the fate of this vehicle with you, Saint Jude. I will accept the outcome, whether bad or good."
Not even two seconds after I said "amen" my phone rang. It was the car dealership calling to tell us we got the loan!
What I learned from all this was to pray often and with trust. From now on, I will accept any outcome without losing my faith. As long as I have faith, Jesus will take care of me.
— Sunny