---
Thank You, Saint Jude!
Thank You, Saint Jude!
Letters from Patrons of the Rosary Shrine of Saint Jude
For generations, Catholics have publicly thanked Saint Jude for favors received through his intercession. In this article, patrons of the Rosary Shrine of Saint Jude carry on the tradition!
Ring Found
I wish to thank Saint Jude for helping me find my sister's ring she had let me wear. I thought it was gone forever. My youngest sister had made this ring as a symbol of our family name. I was very upset. I prayed to Saint Jude and on the fifth day I found it. I have been thanking him every day since.
-Karen
I prayed for my daughter's healing from breast cancer and my prayers have been answered: she is 13 years cancer free. THANK YOU SAINT JUDE!
-Frannie
Thank you, Saint Jude, for blessing my new truck and for my family and friends. You have always been there for me. Amen.
-Edmundo

Lost 70 Pounds
Father Gabriel,
I received a favor from Saint Jude on Saturday, September 1, 2018 as I was driving from my home in Hutchinson, Kansas to Saint Mary's Catholic Church at 8th and Main in Newton.
While driving on Highway 50, I encountered a truck pulling a trailer with a 12' ladder on top. As I was trying to pass the truck, the ladder flew off the trailer and was spinning toward my windshield! I applied my brakes as hard as I could. As I prepared for the ladder to hit my windshield, the ladder disappeared! I looked in my rearview mirror and saw it lying across the road – right where I had just driven.
I have been praying to Saint Jude since February 1, 2018, to help me lose weight. He helped me lose 70 pounds! I also believe he was taking care of me on the highway to Mass.
Prayers do get answered!
-Frances
I can't put into words the love I have for Saint Jude. He has answered many prayers for me since I was seven. When I was 38, I had open heart surgery to remove a tumor, I prayed to him to please let me live. I still had two children under 18 who I needed to be there for. The doctors said my life expectancy was five years, so I have kept praying. I had to have the surgery a second time six years later. Now I am 60 and still praying. So if you need to pray for something you think is impossible, just pray and believe.
-Kathryn
Saint Jude has answered many prayers throughout many years. Through his power from Jesus, Saint Jude helped me to pass my RN exam over 40 years ago. He has also healed many illnesses of family and friends, and still continues to do his work!
-Mary
Cancer two times, both contained. I am considered cured, all from the intercession of Saint Jude. Saint Jude, pray for us!
-Diane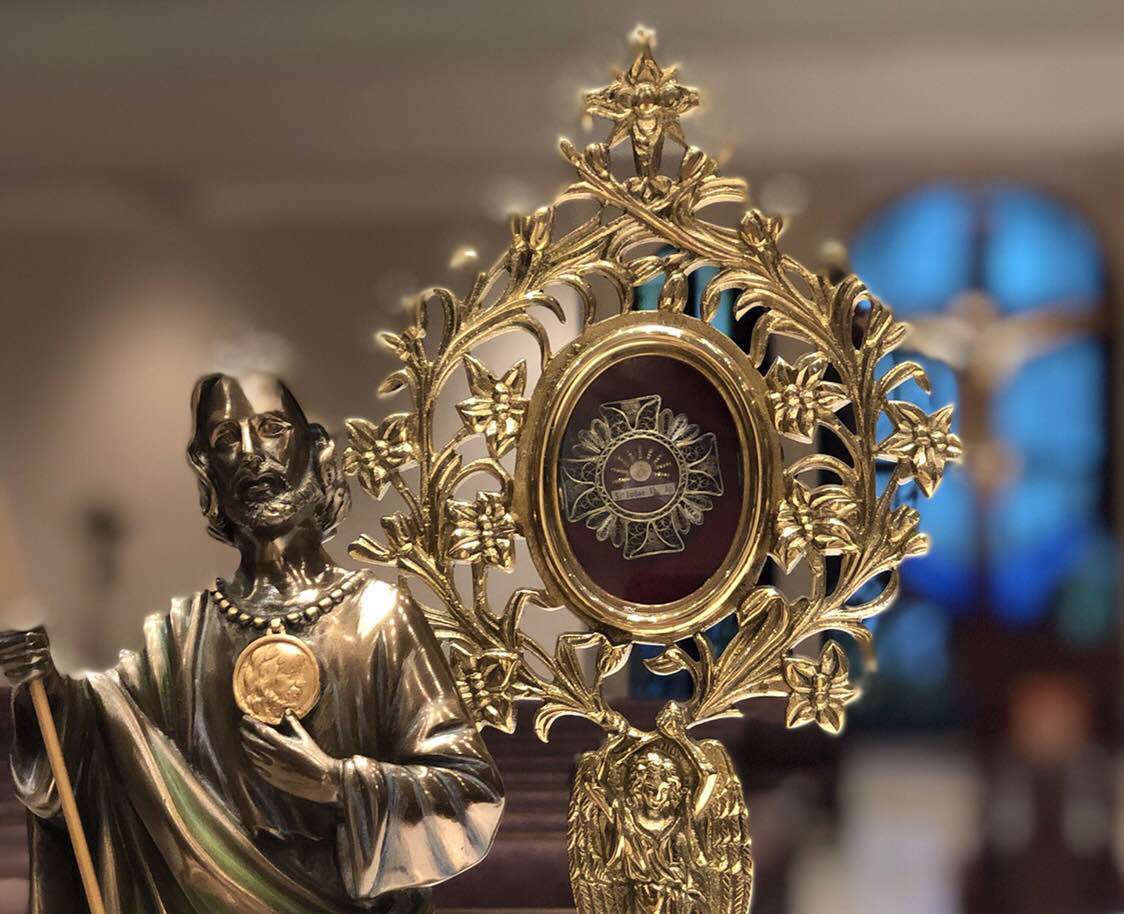 Saint Jude has answered many prayers for me. I received a Saint Jude statue for my first communion when I was seven. I am now 61 and pray to him every day. He is working on a prayer for me now.
-Dennis
Thank you, Saint Jude, for all your blessings. You are my Rock.
-Nelda
Finding Direction
I prayed that my 35 year old son would find some direction in his life. He was never interested in college and refused to go in debt for it. He has been freelancing for a few years but had no regular paycheck, no insurance, no retirement plan, no vacation pay. He also had all of the hassles with self-employment taxes. A few weeks after I prayed to St. Jude, my son called to tell me he had found a program of study he would like to take. He is in his first weeks of this program and I pray it is the beginning of a successful career. Thank you, St. Jude!
-Elaine
A Year to Live
Eight years ago I was given six months to a year to live. I prayed to Saint Jude every day. He answered my prayers. I am still here.
-Chicky

Cured of Asthma
I developed asthma at the age of 19 due to living with six cats at home as a child. After being diagnosed, I was treated with pills and then progressed to an inhaler, which I carried with me at all times, not knowing when an attack might come upon me. By age 34, I had enough. I decided to reach out to Saint Jude and ask for his help as there was nothing I could do to stop it. I prayed his nine day novena and I am happy to report that I received a true miracle. I never had another asthma attack again and I will be 58 in a few weeks. Saint Jude is a true wonder and miracle worker and I have never ceased to be grateful for the healing I received!
-Elizabeth-Anne
He Wanted to Die
I was married to an abusive, manipulative sociopath who didn't like to work and was beating our children when I was at work. My middle child took the brunt of the abuse because my ex became jealous of him (my ex put me through so much hardship when I was pregnant with my son, that he was born sickly and needed special attention from me). I was unaware of my ex's treatment of my son until, at eight years old, my son told me he wanted to die.
For ten long years we were in therapy, and I put my son's life in Saint Jude's hands. I promised to pray his Novena perpetually, and, little by little, my son improved, and I didn't have to give him up to a special home for disturbed children. Saint Jude helped me through everything and was my constant companion.
I love Saint Jude and will always be grateful that he saved my son.
-Carmen
Saint Jude has been my patron saint for many years. It started in high school when a friend of mine gave me a prayer card, and I have been devoted for over 40 years. Four years ago, I was diagnosed with cancer. The night before my surgery I received a strong sign from Saint Jude. My surgery went well, and I continue to receive positive news at doctors appointments. I know in my heart this has been possible through Saint Jude's intercession.
-Donna
I prayed a Novena to Saint Jude for a Child. We waited almost six years before our first. Prayers were answered indeed: I now have four sons.
-Janice
✠
Have you received an answer to prayer from Saint Jude, Our Lady, or any other of the powerful intercessors we invoke in our Novenas at the Rosary Shrine of Saint Jude? Let us know via. email at rssj@dominicanfriars.org, or contacting us on Facebook at facebook.com/rosarysaintjude.